MIG Welding 2: Make Better Welds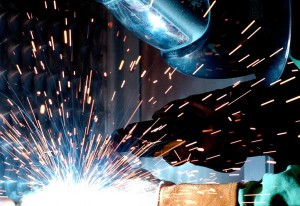 After completing the MIG Welding safety and basic use (SBU) class, you can practice specific joints and improve weld bead quality under guidance of an instructor.
In this class, many different joints will be discussed, including those required from professional certified welders. This will be an opportunity for you to ask specific questions about welding, or about your project. The instructor will guide you through the class, but will also focus on your own project, for it to turn out as you planned. Participants will perform at their own rates.
Project: Guided practice with the instructor. You can also bring your project and ask the instructor any questions you have.
Prerequisites: Successful completion of WLD102 MIG Welding SBU prior to taking this class. MTL103 Basic Metal Shop SBU is recommended.
Equipment access: MIG welder
Minimum age: 12
Safety:
Mandatory: Closed-toed shoes made of natural fibers or leather, natural fiber or leather long sleeved shirt, natural fiber or leather long pants. Welding hood, gloves and jacket will be provided by TechShop.
Advised: Leather welding jacket, leather welding pants, leather boots, respirator, and hearing protection.
Supervision requirements:
During class, all 12 to 14-year-old students must be accompanied by a parent or guardian who is also enrolled in the class. When using the machines outside of class time, 12 to 14-year-old members must be accompanied and supervised by a parent or guardian who has passed the SBU.
Members who are 15 years and above can, after successfully passing this class, use this equipment for your projects whenever you work at TechShop as a member!
* Membership is verified at the time of the class session. Be sure to bring your badge.
---
| | |
| --- | --- |
| Member Price: AED 320.00 | includes VAT |
| | |
| --- | --- |
| Non-Member Price: AED 380.00 | includes VAT |
---