PCB Design Part 2: Layout and Fabrication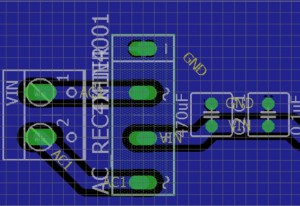 Ever wanted to make your own PCBs? In this class you will learn how to design the layout and fabricate your own Printed Circuit Boards. Layout is a critical step in order to have your design ready to generate your manufacturing files. You will use Autodesk Eagle to create your layout, bring your schematic from the previous class to continue working on your first design

You are now one step closer to making your own PCBs!
Prerequisites: Knowledge in electronics is a must for this class! We highly recommend taking Level 1 PCB Design: Schematics previous to this class.
Equipment access: Electronics bench
Minimum age: 8
Safety: Closed-toed shoes are mandatory
Supervision requirements:
During class, all 8 to 11-year-old students must be accompanied by a parent or guardian who is also enrolled in the class. When using the machines outside of class time, 8 to 11-year-old members must be accompanied and supervised by a parent or guardian who has passed the SBU.
Members who are 12 years and above can, after successfully passing this class, use this equipment for your projects whenever you work at TechShop as a member!
* Membership is verified at the time of the class session. Be sure to bring your badge.