STEAM Camp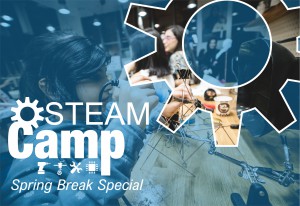 The STEAM program covers the areas of Science, Technology, Engineering, Arts and Mathematics.
Looking for an exciting winter camp? Engage and inspire your kids this break with a unique experience at TechShop's STEAM camps.
Have your kids learn science and apply it to solve practical engineering challenges. Your young innovators will learn how to use state-of-the-art technology and how mathematics is useful to create projects. Let your little ones dive deep into science while embracing their creative side.
Contact the Front Desk 02 558 8624 for more information or sign up your kid directly by booking a seat.


Spring Camp Schedule
Spring Camp Dates:

1st Camp: From Sunday, 31st of March to Thursday, 4th of April 2019
2nd Camp: From Sunday, 7th of April to Thursday, 11th of April 2019

Camp Time:

Every morning between 9:30am and 1:30pm
STEAM Class Content
Below you will find a selection of our STEAM curriculum, which aims at encouraging students to develop critical thinking, collaboration, planning and problem-solving techniques. Our STEAM Camp covers five projects from that curriculum. Our approach is project-based, always engaging and works to bring together several fields of study at a time.
In addition to the theory behind each exercise, dedicated sessions will focus on boosting hand tooling capabilities. TechShop's STEAM room is equipped with a workstation for each student providing soldering irons, screwdrivers, vices, measurement tools, and many more. In addition to the workstations, students have access to a drill press, hand drill, scroll saw, hot glue gun, etc. under direct supervision of a teacher. Students can experience and understand scientific principles in self-conducted and exciting experiments. They will get to put their acquired knowledge into action, as they apply the theory to real products through manual DIY work.
Water world Discoveries - Build a Steam Boat

Water: an element that we can take for granted sometimes, as we use it for drinking, cooking, washing, watering...but do you know where the water you use actually comes from in the first place? Learn more about this everyday essential for life, from steam to floatation, with hands on experiments including building your own mini boat which we will try out in the test pool.

Up! Build a Pneumatic Lift

Humans have invented clever ways to get air to do some heavy lifting! The technical term for this is pneumatics, and in this lesson you will learn in a simple way how the air is used to do work, by building your own small pneumatic lift.

It's Electric - Build an Electric Circuit

We're all used to plugging in our devices these days and getting our power up to 100%. But where does that electricity come from? With "electrifying" experiments such as creating your own electric circuit and also some theory, you will learn how electricity is generated, how it gets from A to B, and what we can do with it.

Fun times! Build a Bubble Making Engine

This class offers the opportunity to experience different materials (wood, metal, plastic ...) and tools (scroll saw, thermocutter, drill press, hand drill, soldering iron and all sorts of hand tools ...). Students will learn how to build an engine with multiple rotating parts, a motor and propeller.

It's Tricky! Hot Wire Game

Build your very own game and challenge your friends and family to test a steady hand and steady nerves. Players must guide the loop along the wire maze, but make sure you don't let the metal loop touch the maze, or you will set off the buzzer and make the LED light-up!

The Seesaw Engine

A first introduction to the world of thermomechanics! Building a simple, easily understandable and step-by-step thermal seesaw engine, young learners will see the magic of science in action with the help of a bimetallic spring and a candle!
Age & Supervision requirements
Minimum age: 8
Maximum age: 15
No parental supervision is necessary! Kids will be supervised by TechShop staff!
Prerequisites & Other Requirements
The camp will be conducted in English.
Cost
Member Price: AED 1,100 per student
Non-Member Price: AED 1,320 per student
Number of Students
Minimum number of registrations: 4
Maximum number of registrations: 12
Safety
Closed-toed shoes are mandatory for all participants. Open-toed footwear of any kind is not permitted and unfortunately if this requirement is not met, we will not be able to allow access to the facility.
Non-Member Price
Member Price