Vacuum Forming SBU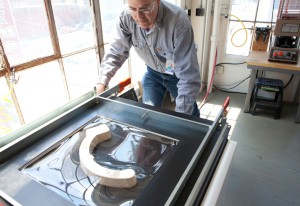 Lots of parts can be made quickly and inexpensively with the use of a vacuum forming system.
In this Safety and Basic Use class, you will learn the parts of the vacuum forming machine and then make vacuum-formed parts. You will make a master (plug) tool from inexpensive materials like pine, foam, balsa or found objects; select plastic sheeting; and then use the created part as a "plug" to mold the final object from a heated plastic sheet with the assistance of atmospheric pressure.
Prerequisites: None!
Equipment access: Vacuum forming machine (Formech 686)
Minimum age: 12
Safety: Closed-toed shoes are mandatory
Supervision requirements:
During class, all 12 to 14-year-old students must be accompanied by a parent or guardian who is also enrolled in the class. When using the machines outside of class time, 12 to 14-year-old members must be accompanied and supervised by a parent or guardian who has passed the SBU.
Members who are 15 years and above can, after successfully passing this class, use this equipment for your projects whenever you work at TechShop as a member!
* Membership is verified at the time of the class session. Be sure to bring your badge.