Arduino Series: Basic Programming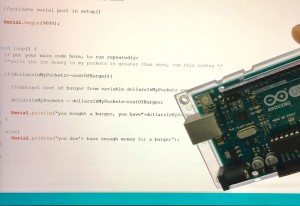 Do you want to bring interactivity and intelligence to your projects? Programming basics for Arduino takes you to an in-depth look at how to write your own Arduino programs.
In this class, we will cover the structure of an Arduino program, functions, variables, arrays, control structures, using Libraries and Arduino-specific functions.
Students with no programming experience will appreciate learning basic concepts and structures for programming for the Arduino. Students with programming experience will appreciate learning the ins and outs of adapting their coding for use with the Arduino.
Prerequisites: An Arduino board will be available for use during the class. Alternatively, you can buy an Arduino Uno from our retail or you can bring your own. Basic concepts of programming are recommended.
Equipment access: Electronics bench
Minimum age: 8
Safety: Closed-toed shoes are mandatory
Supervision requirements:
During class, all 8 to 11-year-old students must be accompanied by a parent or guardian who is also enrolled in the class. When using the machines outside of class time, 8 to 11-year-old members must be accompanied and supervised by a parent or guardian who has passed the SBU.
Members who are 12 years and above can, after successfully passing this class, use this equipment for your projects whenever you work at TechShop as a member!
*There's a minimum number of TWO registrations for this class, below this number TechShop retains the right to cancel or reschedule the class, participants will be notified 24 hours prior to the class time of any changes. Class fees are not refunded but credited for future classes in case of cancellation, please refer to the link below
www.techshop.ae/payments-refunds-and-cancellations.html
* Membership is verified at the time of the class session. Be sure to bring your badge.