Plaster Moldmaking and Slip Casting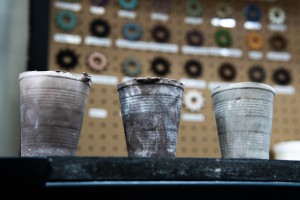 Ever wondered how mugs or plates are made? How is it done, so that they all look exactly the same in shape? In this class we will create ceramic cups through the process of slip casting using plaster molds, we will be exploring the nature of slip and plaster as well as how to make plaster molds. We will cover how to make a one piece mold as well as the process to make a two piece mold.
Get ready to get your hands dirty in this engaging hands-on class! The instructor will guide you through the process of moldmaking and you will be able to create a your own mold that will later on be fired in our kiln by our Dream Consultants.
Project: Ceramic cup mold
Prerequisites: None!
Minimum age: 8
Safety: Closed-toed shoes are mandatory
Supervision requirements:
During class, all 8 to 11-year-old students must be accompanied by a parent or guardian who is also enrolled in the class. When using the machines outside of class time, 8 to 11-year-old members must be accompanied and supervised by a parent or guardian who has passed the SBU.
Members who are 12 years and above can, after successfully passing this class, use this equipment for your projects whenever you work at TechShop as a member!
* Membership is verified at the time of the class session. Be sure to bring your badge.