Makers Camp Superheroes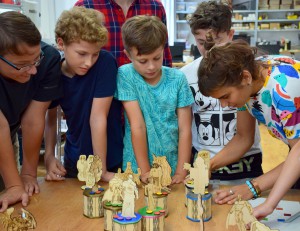 Makers Camp! Superheroes – Digital Storytelling
Developing soft and technical skills is essential for kids to become successful in the future. To achieve this goal, we have created this superhero-themed story-based curriculum ready to be used for teaching in makerspaces.
Participants create superheroes to express their feelings and experiences. By using storytelling methods, wiritng and drawing in addition to makerpace fabrication technologies.
For this camp, children wil llearn to desing in Inkscape and employ fabrication technologies such as laser cutting to bring the designs to life, the end result is a unique LED light stand displaying the designed characters.
Camp Schedule
Camp Time:

Sunday 07/06/2020 to Thursday 25/06/2020 a total of 8 sessions at the rate of 3 sessions/week
Sessions start at 3:30pm sharp and end at 5:00pm
A kit with materials and tools will be delivered prior to program kick off.
Prerequisites
None! The camp will be conducted in English.
Age & Supervision requirements
Minimum age: 10

Maximum age: 15
No parental supervision is necessary during session! Some help from parents is required to setup Zoom/Teams and Inkscape application.


Online camp offer
This price is for the online version of the camp
June 2020 on wards due to COVID-19
AED 200.00