Robotics Camp Level 1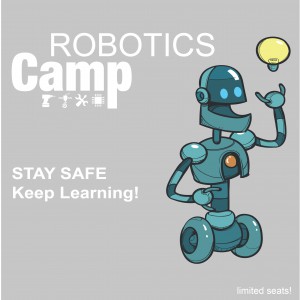 Design, build and program your own robot!

Students unleash their creativity, have fun building and programming robots in a creative and competitive environment!
As part of the session, our trainer will take students on an immersive experience to understand the very basics of Robotics and get hands on practical experience on the differnt knowledge areas of Robotics. We
Participants will work to build a robot and program it with different behaviours by adding and removing different components and writing different codes.
This is a great program to get hands on programming with Arduino, and learn about sensors and electronics. Students will receive a kit and will have to use the tools available in the kit to put together and modify their own robot. We will be working on two behaviours: Control via bluetooth and following a line on the floor. At the end of this program students will keep the kit with them to continue their exploration and learning journey! As the Robot design is open-ended they can in the future fabricaiton parts and modify the design and functionality of the robot.
Camp Level 1 Schedule
Camp Dates:

Sunday 07/06/2020 to Thursday 25/06/2020, a total of 9 sessions at the rate of 3 sessions/week
Sessions start at 5:00pm sharp, and end at 6:30pm.
A kit with materials and tools will be delivered prior to program kick off.
Prerequisite
None! The camp will be conducted in English.

Age & Supervision requirements
Minimum age: 10

Maximum age: 14
No parental supervision is necessary during sessions! Some help from parents is required to setup Zoom/Teams and Arduino IDE application.

Online camp offer
This is an offer price for the online camp
Starting from June 2020 due to COVID-19
AED 350.00